The time has arrived, summer is finally here! We suddenly see ourselves planning trips to the beach or long weekends in the warmer weather, where of course our outfits are important. And one thing we need to think about when the summer comes is protecting our skin from the sun. Summer is a time were people loves to get tan and when some of our favorite things to do (hiking or practicing yoga) can get a little tricky if you are not protected enough. For that, of course, we suggest a good amount of sunscreen, and following the guidance of experts (remember to avoid sprays as they harm the environment).
However, when it comes to use your style to protect your screen, boho picks can come really handy. One thing we love about the summer is the possibility to use our favorite pieces on our heads and on a daily basis. With sun comes the need for hats, scarfs and other items, so here is your guide to rock your favorite pieces under the sun.
-Pick the material. We've been through this, but we can always talk about it again, the material of a piece will determine the occasions in which you are going to use it at its best. A heavy hat can look fabulous with your summer dress, but it will be too thick for your head to breathe when the temperature is too high. The premise here is to look for fresh and natural materials (wicker, straw), which usually come in neutral colors that you can combine with your outfits.
-Size matters. We know there is nothing more fabulous than a big boho beach hat, especially now that the trend is at its peak and everyone seems to be wearing one (have you check Instagram the past two seasons?), but sometimes you need to pick your moments. Yes, a hat like that is going to look amazing on an Instagram post, but it can be uncomfortable to carry during a trip or to handle during a vacation with friends. If you have the patience for that, and you don't mind blocking your friends on the pictures, go for it. If not… try something smaller, but equally cute.
-Make it your own. There are a bunch of options for hats and fedoras out there, and one thing we don't really love about bohemian clothes and accessories being popular is that we all end up looking similar. But the good thing about embracing a boho lifestyle is that you can accessorize your accessories. Yes, you heard me: find interesting little scarfs, pieces of pattern fabrics or even beading that you can buy in the fabric stores to attach to your hats. There are many options to play with and you can even match them with your outfit!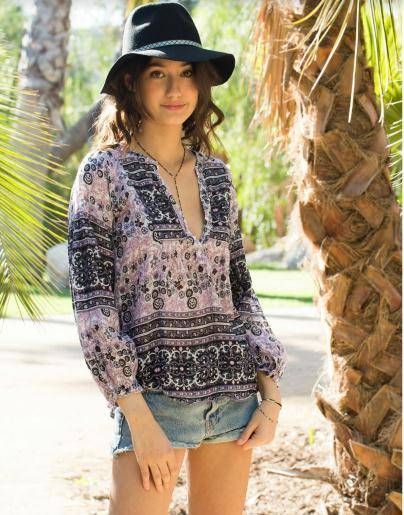 -Scarf it up. There is nothing more boho than a headband, and there is not a bigger trend that headbands and turbans at the moment. Forget about the flower crowns, look in your drawers for printed scarves and do a little research for interesting ways of tie them up to your head. One downside is that you won't get the shade of a hat, but your hair will be protected and you will be the chicest boho girl in the room!